BRAD JONES AL WEER UIT ZIEKENHUIS
BBC Sport. 5 NOVEMBER 2018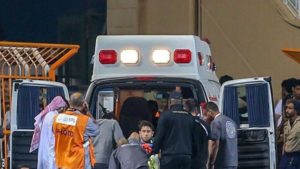 Brad Jones says there are "no major issues" after he was left unconscious for several minutes during a game on Friday. The Al-Nassr player, 36, suffered a blow to the head in the 75th minute of his side's 2-0 loss to Al Ahli.
The match was stopped for almost 10 minutes after the accidental collision with team-mate Bruno Uvini's knee.
Jones confirmed on Twitter that he suffered "concussion and some bruising."
Al Nassr's medical staff tended to a motionless Jones, who was stretchered off the pitch after he regained consciousness. The Australian was taken to hospital in an ambulance but has since been discharged following the incident. The injury could potentially sideline the goalkeeper for six weeks, meaning he will miss this month's Socceroos friendlies against Lebanon and Kuwait, which will be crucial preparation for the 2019 Asian Cup in UAE.
Jones joined Al-Nassr on a two-year deal in August, after spells at Middlesbrough, Liverpool and Feyenoord.
Ook iets vets gezien? Tip ons op info@goaliesonly.nl